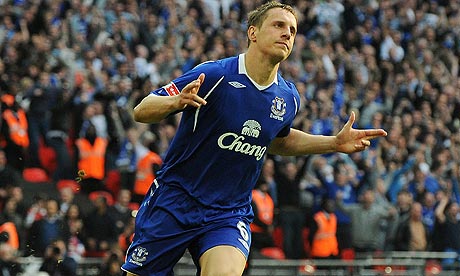 When the game went into penalty, I walked into the kitchen, grabbed a bottle of water, and just sat at the dining table to drink. I was preparing for the worst. I was not trying to manage my expectation, but Everton is awful when it comes to penalties So I was just getting ready for what was going to be the usual result of us losing right at the end. We lost to Fiorentina in the UEFA Cup last season, after a superb fight back at Goodison Park, and this time, we played a lousy game and was lucky that MU themselves were not great.
To compound matters, our best penalty taker for the day was substituted (Saha), or injured (Yakubu, Arteta). So who was going to take the penalty?

Then stepped up, Cahill. Cahill take penalty?? He has not taken any in Everton shirt, and when he blazed it over the Bar, I sat down so still that I did not even realise Berbatov missed his penalty.
But we got lucky in the lottery of penalty. We won 4-2.
For some strange reason, I have this feeling that Ferguson was not keen to win the game. He played a vertual reserve team, save for Tevez, Vidic and Ferdinand. During penalties, he put his 2 centre backs to take the penalty, which is odd, as Managers usually place their Strikers and Midfielders to take penalties. Could he, being a Scot, wanted another Scot in Moyes to finally win. After all he has been praising Moyes almost everytime the press ask him about Moyes. He even thinks Moyes should replace him at MU. 
Ah, ignore the mystery and controversy. The most important result for the day is Everton is in a Cup final. 
Finally after 14 years, we are back in a final. We will play Chelsea, but for now I'm not bothered about them. Just want to feel happy that sometimes, God does support Everton.