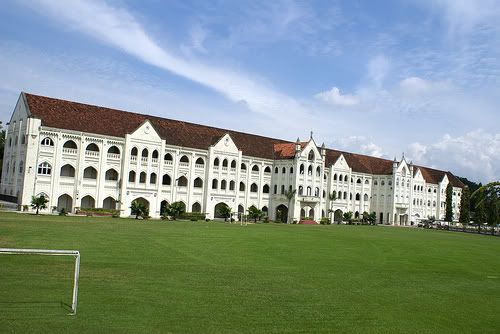 Back in 1990, sometime in the middle of that year, I found myself at a football stadium. Urging my favourite team with over 15,000 other people. It had drizzled a little but it did not stop us from supporting our beloved team. 

We have a superb Korean Defender and 2 enterprising Burmese (as that country was then called) players. The local players were all International players, some of whom were part of the Gold Winning Team at the 1989 SEA Games. We had a player so fast that he was dubbed the Kinta Express, a midfielder with a magical feet that we use to call him Maradona, another winger with a deft left leg, 2 superb Goalkeepers, both part of the National Team then.   
The team just returned to Ipoh after defeating out arch nemesis, Selangor in a memorable FA Cup, coming from 2-0 down to win 4-2 at Selangor's former Home ground of Stadium Merdeka. I was watching their first Home game since that historic FA Cup win. 
Names that I can remember from that team were Azizol Abu Haniffa, Modh Nidzam Adha, P. Ravindran, Chong Kim Boon, Mohd Ali Jinnah, Zulkifli Mansor, Wan Ahmad Kamal, A. Ellangovan, Jang Jung, Kwi Lyin, Aung Naing and M. Karathu (please send me comments on any more players you can remember from that squad).
That team is Perak. 
I also recall that year, my School Team, St Michael's Institution Ipoh; which I was managing (yes I was managing the school team despite I was only 17 years old) won the District Cup (Kinta II district). Football was good then. We would play for the sheer joy of winning for the School. Just to put on that old jersey (the school could not afford to buy football jerseys, so we had to wear 'hand-me-down' jerseys)  was itself a joy. 
I can remember some of my team mates:-
Gerard Pereira
Chan Tai Wai 
Vinodhan
Mohd Azlan
Mohd Faisal (aka "Enje")
Mohd Hazani
Bathmanathan (aka Batman)
Damian Wong
Sedrick Soosay
Norhisham
Zulkifli (reserve keeper)
The inter school tournaments were active all over Perak and we all had dreams to represent Perak in SUKMA. I had sheepishly hoped to be the Youngest Football Manager of the State. 

But to see what is happening to our football now, hurts. The State Football Associations seems to be an extension of UMNO. The management of football reflects our Government, incompetent, ineffectual, inconsistent. 
It is really sad, as before we got so affixed with what is happening at EPL, the local league that use to give us all so much joy, is as good as buried. To see Perak lift that FA Cup in 1990 is still a memory I hold till now. To be part of the SMI team that won the U-18 Cup back in 1990 is still my top memory in School. 
But that memory is our only legacy, for our future in football is gloom. Football development is poor and we continue to produce sub-standard footballers, playing in a pathetic football league. 
Please, FAM, Government of Malaysia, and the Football Community of Malaysia; please do something to improve. And if somebody from FAM or any State FA needs help to improve the game, please call me, for I am prepared to volunteer some time to see our Football scene be back in the groove again.