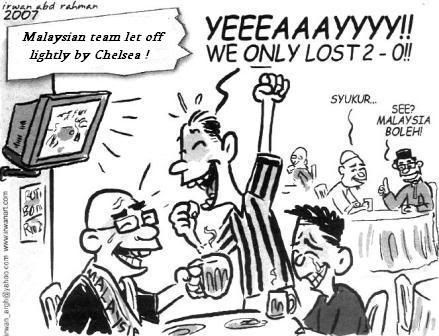 I watched clips of some local football games recently. What to do? EPL is on the break, so any football game on TV, also can-lah; but the local football league is best not to watch. Bloody lousy and poor. I only watched because my beloved Perak team was shown.

Our politics on the other hand, is just wonderful. All kinds of news, and more often than not, about Pakatan Rakyat.
Pakatan Rakyat consist of 3 parties, DAP, PAS & Keadilan.

DAP and PAS have never worked together before 2008. Keadilan has been around since 1998, and their leader, Anwar Ibrahim manage to convince these 2 Political Giants to work together to bring down a common enemy, Barisan Nasional. Keadilan too has not worked with these 2 together, before 2008. There have been instances where PAS and Keadilan worked on some projects, but never the 3 of them together.
So, finally after almost 2 years since their coalition in 2007, some arguments and disagreement is reported in the BN-owned main stream papers. The same news are also picked up by Internet based news portal. Arguments in Kedah. Some land issue in Penang. 
My view on this, so what? 

There have been hundreds of internal squabble in BN, but we hardly hear about it, cause the main stream papers are owned by BN, hence the lack of news on that. And since news portal like Kini came about, we do occasionally read about conflicts within BN like the PPP issue, Gerakan demanding ISA be abolished. But its never amplified and often a minor news, hardly repeated.
But the moment a tiny ant cross the Pakatan cupcake, the whole news agency picks it up, harp on it and repeats it over and over again. 
Of course there will be infighting among the Pakatan members. They never worked together before 2007? They are still trying to get use to each other, and all 3 parties are still trying to find their footing.
The quality of their representatives can sometimes be suspect. Why? Cause when Pakatan were recruiting, how many intellectuals stepped up? How many Malaysians with the better integrity took up the challenge to go up against BN before 2008? Be honest, how many of us thought Pakatan will win so many seats in 2008? Pakatan before 2008 suffered from lack of believe by Malaysians, many of whom are capable and intelligent enough to lead and do the right thing. In the end, we have people like the 3 'jumpers' in Perak. The former Deputy CM in Penang. All with suspect integrity. 
And when we have people with better intellect and better integrity, then we will see less infighting, and probably better delivery by Pakatan. 
Why do you think BN parties stick together? Money!! The party leaders will appoint their relevant party members in all the organisations/companies owned/controlled by BN. From the Local Authorities, to companies like NADI & Petronas, BN will put their people in these places, pay them well and shut them up. 
Money is the gel of BN, while Hope is the cause of Pakatan.

I am however concerned about this re-curring PAS/UMNO talk. If PAS really go ahead and talk to UMNO, then they are hypocrites. The same people attacking UMNO and now they want to work hand in hand with UMNO, and what more, in the name of religion. Come-on lah. We all can see that UMNO is baiting PAS on this. While I do see PAS as a religious based party, but UMNO?? If they are so religious, then explains the millions of ringgit they have taken for corruption.  UMNO is merely using religion to try work with PAS. 
But in the end, our Politics are just superb. Always something to read, and when you meet a stranger in town, I bet you, the 2 of you would be able to strike a conversation about our Politics, well at least better talk that; than about our football.